>
>
>
Tesla's supplier,Wanfeng's annual output of 300 tons of magnesium die casting production line will be built
Tesla's supplier,Wanfeng's annual output of 300 tons of magnesium die casting production line will be built
Recently, the author learned from the Xinchang County Environmental Protection Bureau of Shaoxing City, Zhejiang Province, Wanfeng's large-scale complex magnesium alloy die-casting flexible production line project environmental protection completion acceptance, and publicity. This is an additional project for technological transformation. It plans to invest 250 million yuan to build an existing production plant with a construction area of 28,000 square meters to build a flexible production line for large-scale complex magnesium alloy castings with an annual output of 300 tons. The original project steering column has been reduced from 10 million pieces to 9.6 million pieces of production capacity, reducing the capacity of nearly 300 tons, in order to increase the 300 tons of magnesium alloy die castings. The project is located in Wanfeng Boutique Industrial Park, No. 1, Qifeng Road, Juzhen Town, Xinchang County, Zhejiang Province. The products are mainly used in the field of automobile lightweighting. The construction project includes furnace zone, die-casting zone and inspection zone. The production mainly uses advanced high-performance heat-resistant die-casting magnesium alloy materials and large-scale complex magnesium alloy casting technology or process, and purchases production equipment such as die-casting machine, holding furnace and CNC lathe.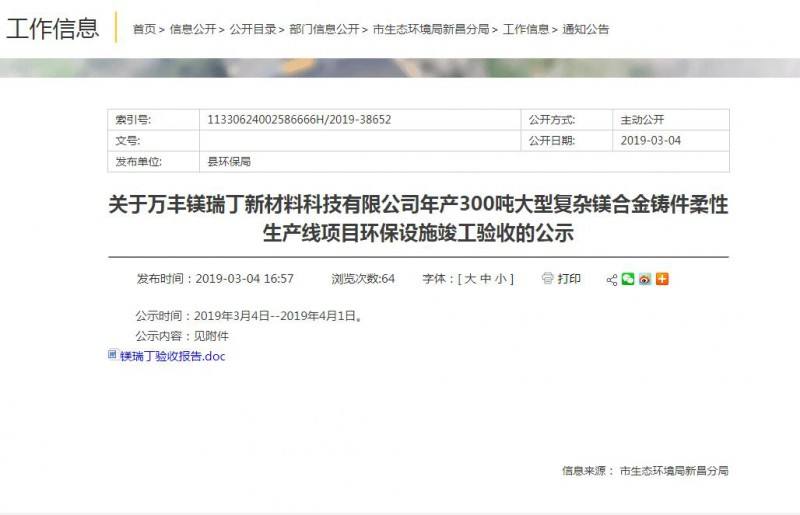 Please feel free to give your inquiry in the form below.
We will reply you in 24 hours.